American Horror Stories
2021 - current
An anthology series of stand alone episodes delving into horror myths, legends and lore.
Φωτογραφίες
Βίντεο
Συντελεστές
Επίσημος τίτλος:
American Horror Stories
Release Date:
15 / 07 / 2021
Δεν υπάρχουν διαθέσιμες κριτικές
Εγγραφείτε εδώ για να γίνετε μέλος, ύστερα από τη διαχείρηση λογαριασμού μπορείτε να αιτηθείτε να γίνετε Reviewer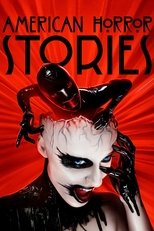 Σεζόν 1
7 Επεισόδια
15 / 07 / 2021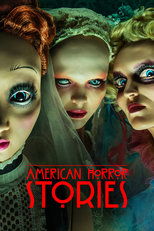 Σεζόν 2
10 Επεισόδια
21 / 07 / 2022
Σεζόν 3
0 Επεισόδια
Set in 2013, the season follows the dwindling descendants of the witches who survived the Salem witch trials and their struggle to hide their identity in the modern world. Those who share this genetic affliction are being subjected to violent attacks from outside forces, such as voodoo practitioners. Zoe Benson (Taissa Farmiga), a young teenager completely unaware of the existence of witches, discovers her identity as a Salem descendant after a violent accident that causes the death of her boyfriend. She is sent to an all-girls boarding school in New Orleans which aims to protect and house young women who carry this unique bloodline, and keep them from the dangers of the outside world.
30 / 07 / 2021
Σεζόν 4
0 Επεισόδια
Set in 1952, the season follows a struggling freak show led by Elsa Mars (Jessica Lange) in the sleepy town of Jupiter, Florida. Decades have passed since the public has looked upon freak shows as a form of entertainment, but Elsa dreams of finding a home for her "monsters," as well as for her own fame and fortune. Other members of her troupe include "Lobster Boy" Jimmy Darling (Evan Peters), who dreams of living a normal life, and his mother Ethel (Kathy Bates), a bearded lady who acts as Elsa's second-in-command by maintaining law and order under the tent. A strongman from Ethel's past and Jimmy's biological father Dell Toledo (Michael Chiklis), and his three-breasted wife Desiree Dupree (Angela Bassett), arrive to join the freak show. To drum up business and save her troupe once and for all, Elsa also recruits conjoined twin sisters Bette and Dot Tattler (Sarah Paulson) to perform for her show.
30 / 07 / 2021
Σεζόν 5
0 Επεισόδια
Set in 2015, the season follows the strange and dangerous happenings that seem to center around the retro Hotel Cortez in downtown Los Angeles, California, initially built as a secret torture chamber to fulfill the violent desires of founder James Patrick March (Evan Peters). Detective John Lowe (Wes Bentley) arrives at the hotel, based on intel from an anonymous tip, to investigate a grisly string of murders, each of which exemplify a sin in violation of one of the Ten Commandments. He has become estranged from his wife Alex (Chloe Sevigny), who suffers from depression, and his daughter Scarlett (Shree Crooks), after the disappearance of their son Holden (Lennon Henry) five years earlier. The hotel is led by March's fashionista widow Elizabeth Johnson (Lady Gaga), also known as the Countess—who was mutated into a vampire by her former lovers, actor Rudolph Valentino (Finn Wittrock) and his wife Natacha Rambova (Alexandra Daddario)—and her current lover Donovan (Matt Bomer).
30 / 07 / 2021
Σεζόν 6
0 Επεισόδια
Set in 2014–2016, the season follows the supernatural events that occur in a renovated farmhouse in North Carolina, which is situated on the land where the Roanoke Colony moved after their infamous 1580s disappearance. In 2015, Shelby Miller (Lily Rabe), her husband Matt (André Holland), along with Matt's sister Lee Harris (Adina Porter) recount their harrowing experience living in the farmhouse a year prior in a popular documentary series titled My Roanoke Nightmare, including their encounters with the violent and vengeful ghosts of the house's previous residents and the Roanoke Colony, the cannibalistic Polk family who live nearby, and the seductive English witch, Scathach (Lady Gaga). The documentary becomes a huge success, featuring dramatic reenactments of the Millers' story starring Audrey Tindall (Sarah Paulson) as Shelby, Dominic Banks (Cuba Gooding Jr.)
30 / 07 / 2021
Σεζόν 7
0 Επεισόδια
Set in 2016 and 2017, the fictional town of Brookfield Heights, Michigan, is left divided in the wake of Donald Trump's election as president. Local restaurant owner Ally Mayfair-Richards (Sarah Paulson) is left utterly distraught, along with her wife Ivy (Alison Pill). Despite the help of her psychiatrist, Dr. Rudy Vincent (Cheyenne Jackson), Ally becomes increasingly unstable in the following weeks, as her long-repressed phobias begin to re-emerge, and they begin to affect her relationships with her wife and their son, Oz (Cooper Dodson). Across town, misogynistic alt-righter Kai Anderson (Evan Peters) rejoices at the election results, enticing him to pursue political power by running for city council, led by radical feminist Bebe Babbitt (Frances Conroy) and with the help of his reluctant, liberal sister Winter (Billie Lourd), who the Mayfair-Richards household hire as their nanny.
30 / 07 / 2021
Σεζόν 8
0 Επεισόδια
Set in the near future, the Antichrist, Michael Langdon (Cody Fern) brings about the apocalypse by instigating nuclear warfare. The chosen survivors of the aftermath, heiress Coco St. Pierre Vanderbilt (Leslie Grossman), her personal assistant Mallory (Billie Lourd), hairstylist Mr. Malcolm Gallant (Evan Peters), his grandmother Evie (Joan Collins), talk-show host Dinah Stevens (Adina Porter), Stevens' son Andre (Jeffrey Bowyer-Chapman), young adults Timothy Campbell (Kyle Allen) and Emily (Ash Santos), among others, take refuge in a fallout shelter named "Outpost 3", run with an iron fist by Wilhemina Venable (Sarah Paulson) and Miriam Mead (Kathy Bates) along with The Fist (Erika Ervin), a brutish and tall female guard. Flashbacks to three years prior reveal that "Outpost 3" was an all-boys warlock school led by John Henry Moore (Cheyenne Jackson) that unknowingly harbored the Antichrist, in hopes that he would rise as the first ever male Supreme.
30 / 07 / 2021
Σεζόν 9
0 Επεισόδια
Set in the titular year of 1984, the season follows Brooke Thompson (Emma Roberts) as she travels to a remote, newly reopened summer camp, known as Camp Redwood, to work as a counselor following a terrifying encounter with serial killer Richard Ramirez (Zach Villa). Those traveling with Brooke include preppy Xavier Plympton (Cody Fern), athletic Chet Clancy (Gus Kenworthy), easy-going Ray Powell (DeRon Horton), and spunky Montana Duke (Billie Lourd). Upon arriving at the camp, they encounter its owner, the deeply religious Margaret Booth (Leslie Grossman), who was once a camper there, and who has her own experience surviving a killer. Other residents of Camp Redwood include its nurse Rita (Angelica Ross), activities director Trevor Kirchner (Matthew Morrison), and camp chef Bertie (Tara Karsian).
30 / 07 / 2021
Σεζόν 10
0 Επεισόδια
On August 3, 2018, the series was renewed for a tenth season.[9] In November 2019, Murphy announced that some cast members from the first three seasons may return for the upcoming tenth season, saying, "[T]he people who helped build this show into what it is, who believed in it from the beginning, have been contacted and are interested. So, if you look at the iconography of the first three seasons, you can figure who I've gone to and who might be coming back." He also said that the tenth season would be "about reuniting fan-favorite actors to come back."[10] Later that day, Sarah Paulson confirmed that she would be returning to the series for its tenth season in a lead role.[11] On February 26, 2020, Murphy revealed via his Instagram account that Leslie Grossman, Billie Lourd, Evan Peters, Adina Porter, Lily Rabe, Angelica Ross, Finn Wittrock, and series newcomer Macaulay Culkin were cast in the tenth season.
30 / 07 / 2021